As per the MNS announcements published in May 2018 concerning changes brought to NPF Return please find below the main sections whereby enhancement and validation rules have been applied. To download the MNS announcements kindly visit the MNS website and for further information on NPF/NSF Contributions and Training Levy visit the MRA website.
Company Category

Employee ID

Contribution Rate Table

Employee Rate Code

Levy Flag

Total Wage Bill and Levy Calculation
To export the Monthly MRA Joint PAYENPFNSF Return (Jan 2018), use the steps below.
Step 1: Go to Monthly Tasks
Step 2: Click XML Exports icon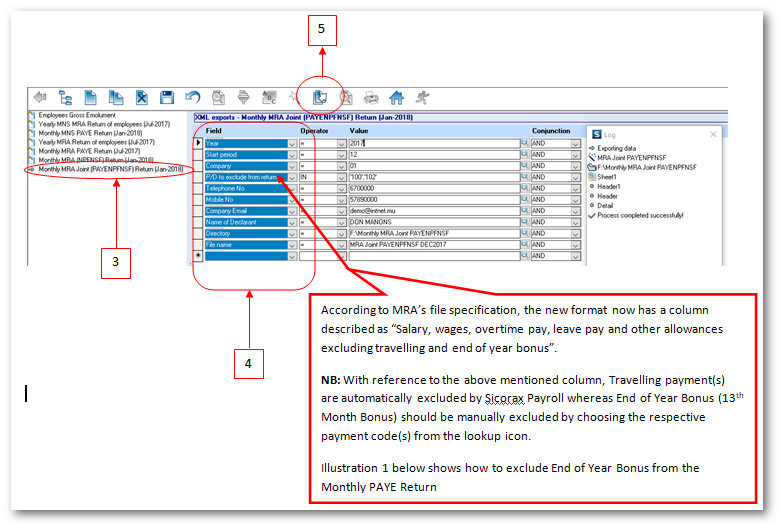 Step 3: Double-click Monthly MRA Joint PAYENPFNSF Return (Jan 2018) as per above illustration
Step 4: Insert the following criteria:
Year: Choose calendar year from the list
Start Period: Choose month from the list
Company: Choose company from the list
P/D to exclude from return: Select End of Year Bonus (13th month bonus) code(s) from the lookup icon (refer to the following illustrations for further explanation)
Telephone number: Insert number, it should be equal to 7 numeric characters
Mobile number: Insert number, it should start with the figure 5 and should consist of 8 numbers;
Company Email address: Insert the contact email address of the company
Name of Declarant: Insert the name, it should bear UPPER CASE letters and/or numeric characters (max 50 characters)
File name: Insert file name, it should be less than 21 characters long
Directory: Click lookup icon to browse and select the folder to which you want to export the file
Step 5: Click Export button from the toolbar
How to exclude End of Year Bonus from the Monthly MRA Joint PAYENPFNSF Return (Jan 2018)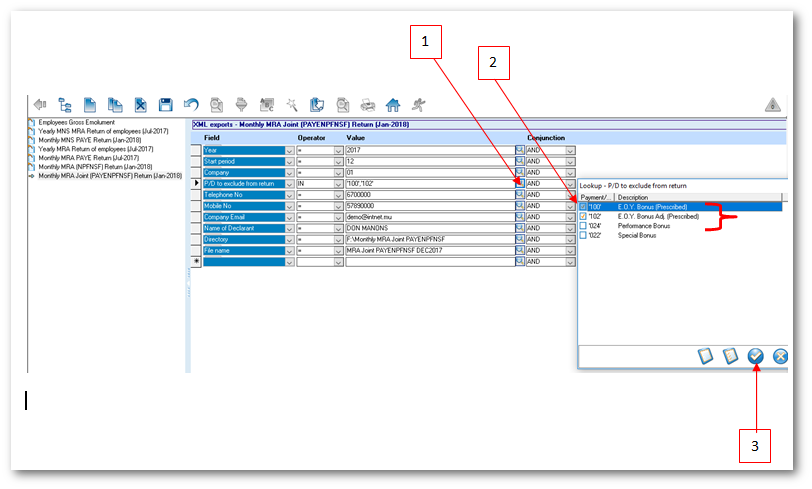 Step 1: Click lookup icon
Step 2: Select End of Year Bonus payment code(s)
Step 2: Click Apply button
NB:(1) The file contains tax payers and non-tax payers and for those whose National ID is missing in the system a message will be shown in the log indicating invalid NID and the export file will be incomplete. You will need to update the NID in the Employee master file and export the file again (2) The log window indicates anomalies on the export file, e.g Value is required for P/D to exclude from return, invalid NID, wrongly inserted Name of Declarant, Telephone number, etc.
A sample of the csv file is shown below:

To update your Employee Masterfile with the appropriate Employment Type value, follow the steps below.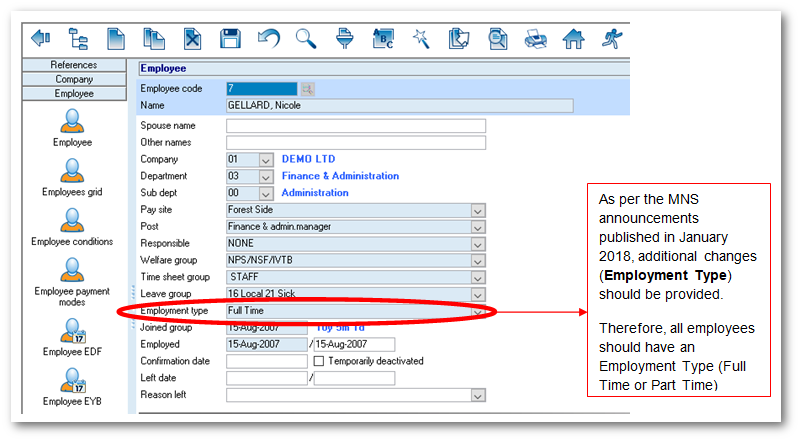 Step 1: Go to Employee
Step 2: Click Employee icon
Step 3: Fill in employee details
As per MNS announcements published in May 2018 concerning changes brought to NPF Return if company category is NOT exempted from levy, then levy contribution should be calculated for all employees (unless any other rules are applied) and levy flag applicable should be set to "Y"
Below is an illustration on how to activate the levy flag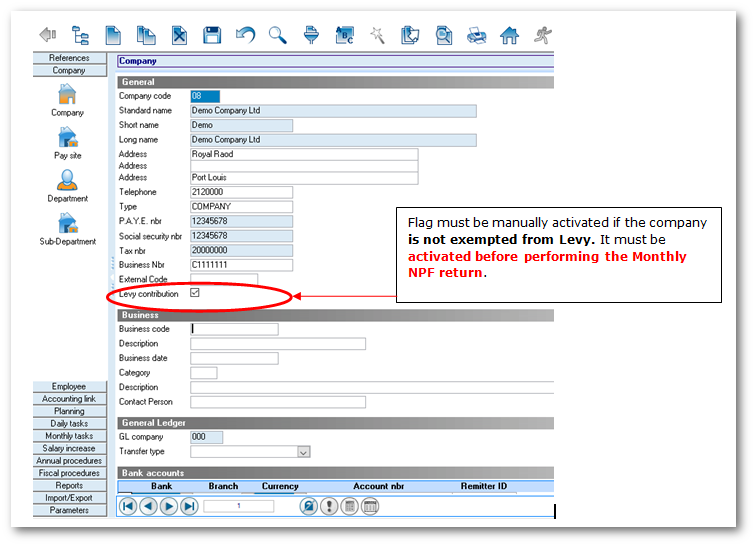 Step 2: Click Company icon
Step 3: Activate Levy contribution